This article appeared in Knife Magazine in September 2020.
Know Your Knife Laws – Driving While in Possession of a Knife
By Daniel C. Lawson, Attorney and Knife Expert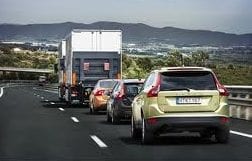 Many among us in the knife community pay little heed to the knife in a pocket, purse, sheath, or backpack as we go about the day or take a seat in a car. The simple act of riding in, or driving, a vehicle while in possession of a knife may have legal consequences.
Restrictions on knives for an individual on his own property are typically very limited. A few states, for instance, forbid the ownership of an automatic knife or the bete noire "ballistic knife," meaning it is unlawful to simply have such an item in one's home. The good news is most state law knife restrictions exclude an individual's home or real property.
Some U.S. states extend this exclusion to one's motor vehicle. A State of Georgia statute, 16-11-126, provides:
Any person who is not prohibited by law from possessing a handgun or long gun may have or carry on his or her person a weapon. . .on his or her property or inside his or her home, motor vehicle, or place of business without a valid weapons carry license.
The Georgia law allows one to possess a weapon (knife with a blade longer than 12 inches) inside of his or her motor vehicle.
Colorado law provides that a "knife" is "any dagger, dirk, knife, or stiletto with a blade over three and one-half inches in length." It is unlawful to carry such a knife concealed unless the individual is at his or her own dwelling, place of business, or on property owned or under their control. An exclusion under § 8-12-105 of the Colorado law also obtains for:
A person in a private automobile or other private means of conveyance who carries a weapon for lawful protection of such person's or another's person or property while traveling.
Massachusetts law, unlike the two above-mentioned states, does not allow one to have a dagger, stiletto, or dirk knife accessible in a vehicle:
     Whoever, except as provided by law, . . . carries on his person or under his control in a vehicle, any stiletto, dagger or a device or case which enables a knife with a locking blade to be drawn at a locked position, any ballistic knife, . . . dirk knife, any knife having a double-edged blade, or a switch knife, or any knife having an automatic spring release device by which the blade is released from the handle, having a blade of over one and one-half inches, . . . shall be punished. . . (269 § 10).
It should be noted that Massachusetts law interprets knife names such as "dirk knife" quite expansively and that the punishment for someone with no prior felony conviction but has the wrong knife in his or her car can be up to two and a half years of confinement.
Michigan law, 750.227, similarly restricts possession of many knives in a motor vehicle:
A person shall not carry a dagger, dirk, stiletto, a double-edged nonfolding stabbing instrument of any length, or any other dangerous weapon. . . concealed or otherwise in any vehicle operated or occupied by the person, except in his or her dwelling house, place of business or on other land possessed by the person.
Under Michigan law, if one's business involves operating a vehicle, the vehicle itself does not qualify as a "place of business."  In People v. Wallin  432 N.W.2d 427,  the defendant's van was not his "place of business" for purposes of 750.227, even though the defendant was in the business of delivering produce.
Connecticut has a specific statute§ 29 38 captioned "Weapons in Vehicles. Penalty. Exceptions," with any knife having a cutting edge longer than 4 inches as well as "any dirk knife or switch knife" designated as a weapon.  Neither "dirk knife" nor "switch knife" are defined. The same statute also applies to "any knife having an automatic spring release device by which a blade is released from the handle, having a blade of over one and one-half inches in length." The exceptions provisions applicable to knives are limited to knives with cutting edges less than 4 inches. None of the seven described exceptions allow one to commute from his home to a place of business, although one may transport a knife with a cutting edge less than 4 inches in length to and from a location for the purpose of "repair." The particular exception states the restriction does not apply to:
any person while actually and peaceably engaged in carrying any such knife from such person's place of abode or business to a place or person where or by whom such knife is to be repaired, or while actually and peaceably returning to such person's place of abode or business with such knife after the same has been repaired. . .
A violation of this Connecticut statute is a felony and occurs when a person "knowingly has, in any vehicle owned, operated or occupied by such person, any weapon." Notwithstanding the knowingly element, the statute purports to criminalize everyone in the vehicle:
        . . . the presence of any such weapon, pistol or revolver, or machine gun in any vehicle shall be prima facie evidence of a violation of this section by the owner, operator and each occupant thereof.
Some states have specific laws which create exceptions to weapon restrictions for travelers. In North Carolina, it is unlawful to carry a concealed knife unless it fits within the "ordinary pocket knife" criterion. However, in that state, a person may possess or carry, openly or concealed, a deadly weapon, knives included, at state-owned rest areas "along the highway" pursuant to § 14 269.4.
It may be that the publicly maintained rest areas along the Interstate highway network, which are accessible only by motor vehicles, are attractive to criminals. Anecdotal evidence has long suggested this is the case.l  The North Carolina provision enables law-abiding individuals to implement self-help measures. Moreover, by allowing this, concealed-carry criminals are disincentivized to attack those not conspicuously armed. A clear public benefit is facilitated.
The State of Arkansas also recognizes the vulnerability of travelers on the highways, and thus § 5-73-120 allows weapons to be carried beyond one's home if he is on a "journey" which by statute is "travel beyond the county in which a person lives."
It should be noted that a knife is a useful tool for many contingencies that can occur along the way. Mishaps occur. Cars veer into ditches, over embankments, and/or into bodies of water.  Extricating someone from a damaged or overturned vehicle often requires that a seatbelt be cut. A handy knife, especially one with a serrated blade, is much better than a fingernail clipper, for example, in such circumstances.
The American Knife & Tool Institute (AKTI) has advocated for the passage of legislation at the Federal level to protect individuals traveling interstate with a knife. The proposed Interstate Transport Act, S 542, is the most recent initiative and contains a provision to allow for "rescue knives" to be carried in motor vehicles. AKTI has also successfully initiated legislation in various states to remedy improvident knife laws and will continue its efforts to do so. We respectfully suggest that it behooves all of us in the knife community to be aware of the knife laws in individual states, which may restrict us in a manner often unseen.
Check out the knife laws in your state and where you work or travel, sign up to receive AKTI's emailed news about legislative efforts and information that will help knife owners feel confident to carry the knife and edged tool of their choice, or join and support the organization that advocates for the entire knife community.
______________
1Edwin McDowell, "Threat of Crime Rises on the Main Highways", New York Times, Oct. 28, 1992.