This article appeared in Knife Magazine in February 2020.
Know Your Knife Laws – Concerning Concealment
By Daniel C. Lawson, Attorney and Knife Expert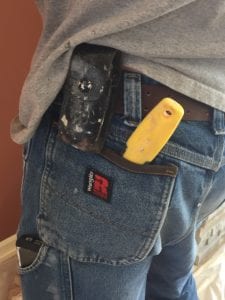 In roughly half of the states in the U.S., there is generally no restriction as to which knives may be carried beyond one's home, based on whether the knife is "concealed." A problem presented for the people in the other half of the country is that most knives, typically carried beyond one's home, are designed to be placed in a pocket or handbag –  therefore, effectively concealed.
The original intent of the concealed carry restrictions was to curb the problem of dueling.1  The targets of the early restrictions were such items as any "pocket pistol, dirk, large knife, or sword in a cane concealed as a weapon, unless when traveling on a journey." (Kentucky 1813). These measures have remained on the books long after dueling has, obviously, ceased to be a problem. It is unlawful, for instance, in Alabama, for one to carry "concealed about his person, a bowie knife or knife or instrument of like kind or description." This law, enacted in 1852, will hopefully soon be repealed by Alabama Senate Bill No. 12020.
As the anti-dueling concealed carry laws became constitutionally recognized and accepted, the phenomenon of legislative creep caused the extension to various 'disfavored' items, such as automatic knives. In 1984, the Oregon Supreme Court held that a ban on 'switchblade' knives enacted in 1957 was not constitutionally allowed. The Oregon state legislature quickly enacted a restriction on the concealed carry of such knives.
Concealed carry restrictions applicable to knives present the issue of which knives are included and when is a knife "concealed?"  In some instances, these issues are not profoundly difficult. In Nevada, for example, it is unlawful for one to carry a "machete" concealed upon his or her person. (N.R.S. 202.350). A machete is typically too long and too unwieldy for effective or inadvertent concealment on one's person.
Certain states that restrict the concealed carry of specific knives provide an objective and readily ascertainable description of that prohibited class. For instance, Rhode Island prohibits the concealed carry of any knife with a blade longer than 3 inches, while Nebraska and Colorado have established the no concealment blade length limit as 3 and ½ inches. Clear and objective demarcation as to which knives may or may not be concealed is the exception rather than the norm.
State laws in Ohio and New Mexico prohibit the concealed carry of any "deadly weapon," a statutorily defined term in each of these states that could conceivably apply to any knife. Florida state law restricts the concealed carry of knives with an exception for a "common pocketknife," while a similar law in North Carolina exempts any "ordinary pocketknife." It is unclear in both states as to which knives are "common" or "ordinary." Concealment restrictions based on labels such as "bowie" or "stiletto" or descriptions such as "spring blade knife" are common.
Apart from the dilemma of which knife may be concealed, there also exists the problem of the amount of discernibility required to be compliant or not concealed. One attempting to achieve maximum visibility could commit the common offense of "brandishing." Carrying any knife in a polite manner will – as a practical matter – require some care and discretion. Does pocket clip carry, generally socially acceptable, constitute concealment when only the clip itself and a small part of the knife are visible?
There is a lack of clarity on this point as well. A South Dakota statute, § 22-1-2 (6), which delineates concealment, states that "if any part of the firearm is capable of being seen, it is not concealed." By analogy, in South Dakota, a knife would not be concealed if any part of it, such as a pocket clip, is "capable of being seen." This is arguably the most favorable and least restrictive of the 24 states with concealment restrictions.
A law in Maine states that a person may not "wear under the person's clothes or conceal about the person" certain knives, including any bowie knife. (25 MRSA § 2001A). People often wear several layers of clothes, especially in Maine. If one puts on a coat, presumably even a large bowie knife carried in a sheath at the waist would become concealed.
Various states have decisional law standards for concealment. In Louisiana, for example, the test for concealment is whether "the manner in which the defendant carried the weapon evinced an intent to conceal its identity." In Ohio, a weapon is concealed "if it is so situated as not to be discernible by ordinary observation by those near enough to see it if it were not concealed, who would come into contact with the possessor in the usual associations of life."  Oregon law provides that one violates the concealed weapon law "by carrying on his person a weapon that is either not readily identifiable as a weapon or by attempting to obscure the fact that he is carrying a weapon on his person."
There is no uniform definition or standard for concealment. The issue of whether a restricted knife was unlawfully concealed will almost always be a question for the jury. The American Knife & Tool Institute (AKTI) is working to eliminate frivolous restrictions and ambiguity in knife laws at both the federal and state levels. It behooves one to stay informed and avoid being complacent, especially when traveling across state lines. Guidance on state laws is available on the AKTI website www.stateknifelaws.com.
Sign up for monthly email news to Stay Informed about AKTI's initiatives to remove or clarify knife laws at www.AKTI.org.
1Concealed Weapon Laws of the Early Republic: Dueling, Southern Violence, and Moral Reform by Clayton E Cramer. 1999