This article appeared in Knife Magazine in December 2020.
Know Your Knife Laws – Collectors
By Daniel C. Lawson, Attorney and Knife Expert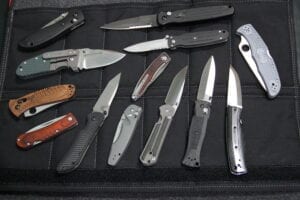 A widespread belief persists about the existence of a "bigfoot" hominid in North American forests.  Likewise, many believe there is a get-out-of-jail-free "collector" exception to laws regarding the possession of restricted or prohibited knives. Some states do provide limited exceptions in applicable statutes for antique weapons, including knives.
A Connecticut case involving a firearm and non-firearm weapons illustrates this general misperception about the "collector" defense. One Charles Cornelius, referred to as "petitioner" in the opinion of the court quoted below, complained that the sentence of 12 years was overly harsh because he was a "collector":
The essential facts underlying the petitioner's conviction are as follows. The petitioner, while using a fake identity, purchased an illegal assault weapon from a New Haven pawn shop. During the police investigation into that improper purchase, the police learned that in addition to engaging in that criminal conduct, the petitioner also illegally purchased other firearms. Thereafter, the police obtained a search warrant for the petitioner's residence and found multiple illegal firearms, a large quantity of sophisticated bomb making materials, literature on how to make incendiary devices, false identification, and other weaponry. (State v Cornelius – unreported).
Extensive legal research has not revealed a collector exception anywhere in the United States which would have applied to the facts of Cornelius or afforded any relief to him. Dogs do not eat homework.
A similar case arose in Minnesota, which is among the six U.S. states where it is unlawful to simply possess an automatic knife. Minnesota law 609.66 forbids the manufacture, transfer, or possession of "metal knuckles" or a "switchblade knife". Subdivision 2 Exceptions of 609.66 states:
Nothing in this section prohibits the possession of the articles mentioned by museums or collectors of art or for other lawful purposes of public exhibition.
Police in Minnesota obtained a search warrant for the home of one Michael Reese based on a "tip". The search revealed illegal drugs, drug paraphernalia, and "brass knuckles" which had been hanging on the wall by means of a wristband. Reese was convicted of various offenses including a 609.66 charge for the knuckles. He sought review by the Minnesota Court of Appeals, State v Reese 446 N.W.2d 173, on several theories, including that the collector exception should have applied to the brass knuckles as a lawful "public exhibition". The opinion of the Court of this precise issue succinctly states:
The brass knuckles were hanging on the wall in Reese's home. No torturing of legislative intent or the English language could bring these facts under the sway of subdivision 2 of the statute.
A statute in Rhode Island, § 11-47-42, sets forth prohibitions applicable to weapons other than firearms. A companion statute, § 11-47-43, provides a collector exception:
The provisions of § 11-47-42, so far as they forbid the possession of certain instruments or weapons, shall not apply to any person who possesses or is making a collection of the weapons as curios or for educational, professional, scientific, or any other lawful purpose, without intent to use the instrument or weapon unlawfully.
This Rhode Island statute, enacted in 1956, has not been the subject of reported litigation. It may be that there has been no ridiculous attempt to invoke it. The fact that automatics knives were not prohibited in that state may also definitely be a factor.
Michigan knife law is quite restrictive with respect to daggers and other "non-folding stabbing instruments" but provides an exception at 750.222a for "any knife, tool, implement, arrowhead, or artifact manufactured from stone by means of conchoidal fracturing." The items addressed by this exception would be of more interest to collectors than persons intending criminal usage. By the way, a broken bottleneck-bar-fight improvised weapon would not fall within the "conchoidal fracturing" exception.
Pennsylvania law, 18 P.S.A. § 908 outlaws the possession of an automatic knife or other "implement with no lawful purpose" unless it is "possessed or dealt with . . .  solely as a curio". This defense was unsuccessfully invoked by an individual arrested for carrying a sword cane who claimed he had just purchased it and was returning to his home in the case of Commonwealth v Walton 380 A2d 1278. A different result may have occurred if the item had been in a case, securely wrapped, or had evidence of the claimed purchase been offered. The opinion of the court suggests that the only evidence was the defendant's testimony.
If we ask ourselves what the defendant in the Pennsylvania Walton case should have done differently – assuming he was a legitimate collector – a set of guidelines for collectors can be compiled.
When acquiring a "curio" or a knife for one's collection that is subject to legal restriction, the item should be handled and transported as something of interest and value, because of its provenance or characteristics. A critical element of the collector or curio defense as appears in the Pennsylvania statute quoted above is the absence of any intent or purpose to use the item. It must be possessed and "dealt with" only as a curio. It is much easier to persuade a court that an automatic knife acquired at a show, for instance, is a curio if it is in the original packaging and carried in a tote or backpack, than the same knife in a pocket. Collector exceptions do not prohibit the disposition of a collection or a part of it. While it is unlikely that someone with criminal purposes in mind would pay the premium associated with collectible knives, would your survivors unknowingly sell restricted knives at a yard sale?
A record of one's collection serves several purposes, such as an insured casualty loss claim; it can also be evidence of a more than a casual interest in the immediate use thereof.
In many instances, it may not be prudent to display a collection. However, if the display is desired, a collector would more likely place the item in a vitrine than hanging it from a nail on the wall as in the Reese case from Minnesota mentioned above.
Evidence of historical, artistic, or cultural interest in knives might also be provided by the fact that one subscribes to a periodical such as Knife Magazine, is a member of a collector's group, or is a member of an organization such as the American Knife & Tool Institute.
A statutory collector exception may not be part of the law in all states. However, some state knife laws contain an "unlawful intent" or "weapon use" element. A showing that one's possession of a restricted knife is part of a bona fide or good faith cultural or historic interest, may negate elements of the offense such as intent or weapon purpose even in states where no collector or curio exception obtains.
It is unfortunate that a few individuals with unwholesome intentions have desperately invoked collector status as discussed above. The American Knife & Tool Institute (AKTI) encourages those in the knife community who are the intended beneficiaries of the curio and collector exceptions to be aware of the defined parameters.
Check out State Knife Laws
Join AKTI
Sign up for emailed news